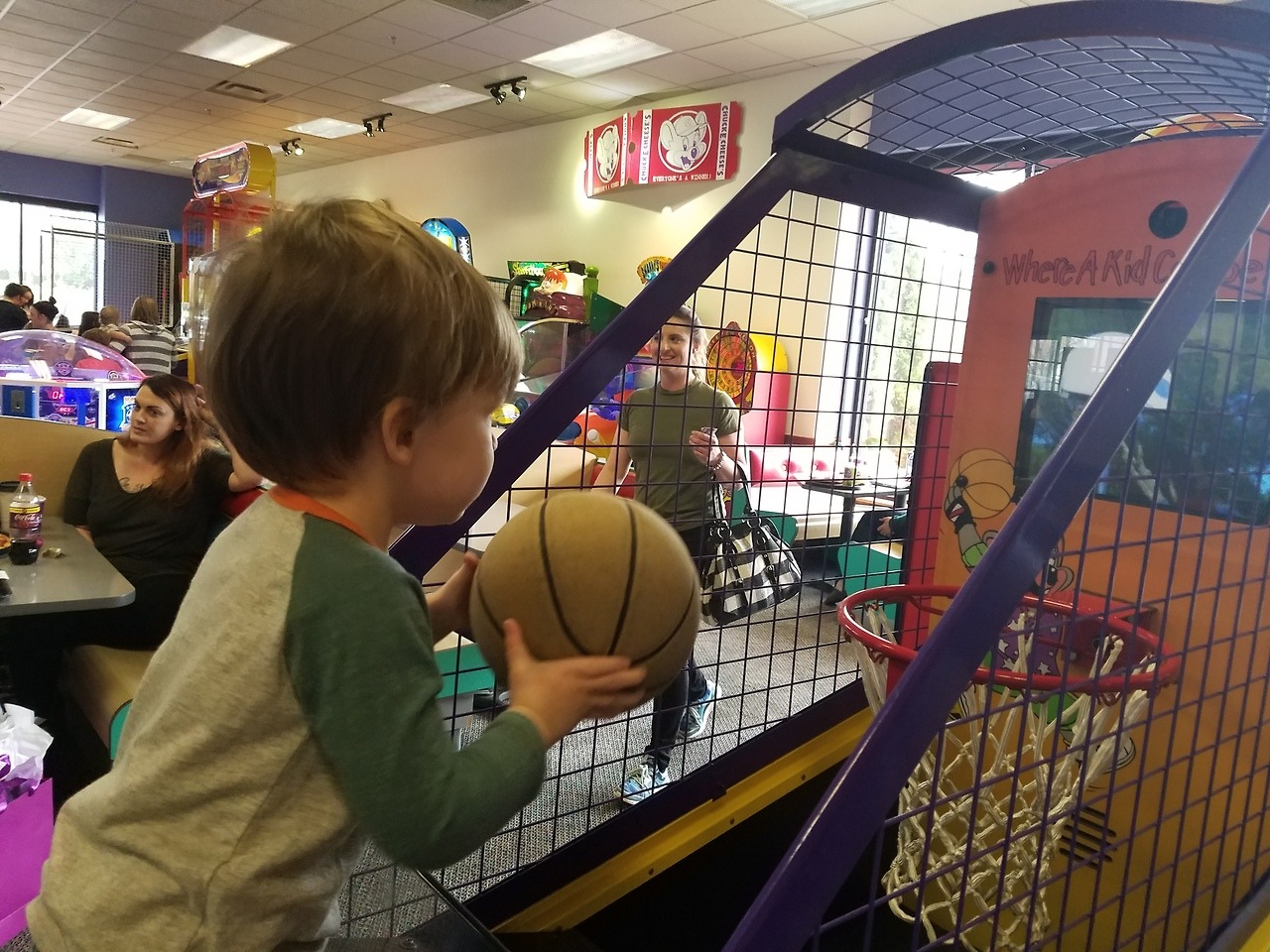 3/25-3/27/17- Nona, Papa, and NeNe are out of town for the weekend so Baylor and I went on a fun date to Chuck E Cheese and to go bowling! I honestly wasn't even sure where we were headed when we pulled out of the driveway, but it turned into a really fun day! Baylor was a little overwhelmed by Chuck E Cheese which was the least surprising thing ever, but he totally did it and had a lot of fun! He only could really do a few things because 1) He doesn't like rides, so that pretty much took out the entire little kids section. 2) He's kind of a pipsqueak, which took out a good portion of the big kids section. 3) I refuse to spend good tokens on a kiddie slot machine instead of playing an actual game. That left us with driving games, skee ball, and sports games which worked out perfectly because that fit his interests perfectly. He would have thrown basketballs and skee balls all day if I let him. We got $5 worth of tokens, which got us a little less than an hour of game time at the snail's pace we were going, and we played all the games he could play multiple times. We earned precisely 25 tickets which was exactly enough for the only prize Baylor would have ever wanted- a red whistle.
Watching him play skee ball made me realize that he would probably love bowling. Since we hadn't spent nearly as long at Chuck E Cheese as I had anticipated, I decided to go over there and see what he thought. I got him a little tiny pair of bowling shoes which I wish I'd thought to take a picture of and a ramp so he could roll the ball down and voila! We were bowling. And he liked it just as much as I thought he would! He totally understood that the goal was to knock down the pins and he'd cheer for himself when he knocked a lot over.
When we got home that night, he totally refused to eat dinner which is unlike him and then he totally melted down. When I went to pick him up, I noticed he was burning up. By the next morning, he definitely had spiked a fever and had a terrible productive cough and so did I. Since we're supposed to leave for Texas on Thursday, I'm hoping we all get to feeling better soon.
Baylor and I did manage to go to Baby Owen's baptism early this morning though. I just felt it was important to show our support, so we stayed toward the back and kept Baylor away from Owen. It was a lovely service and we even managed to stop by the baptism party for a few minutes before Baylor needed to get home for a long nap.